Uhuru Reveals How They Found 5,000 Ghost Officers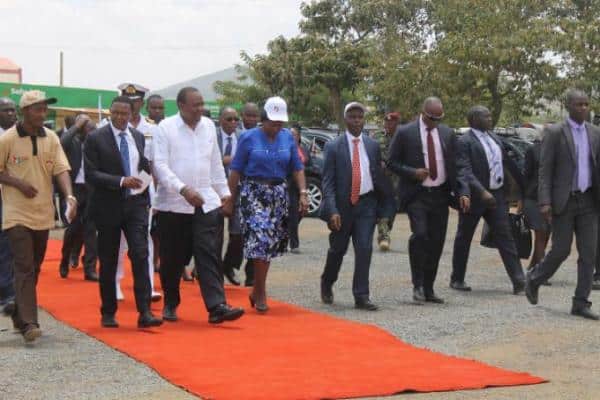 About 5,000 ghost officers were flagged during the pilot phase of NIIMS, President Uhuru Kenyatta has said.
The ghost officers cost the government Sh148 million per month in salaries, amounting to Sh1.8 billion annually.
"Let me tell you what we found out so that you understand why some people don't want us to implement this system because they know they will be found out," Uhuru said
"In the National Police Service, we found 1,447 people who were being paid salaries but were not showing up at work. They were just on paper."
Uhuru spoke on Tuesday during the launch of Huduma Namba in Machakos county.
In the Administration Police, the President said NIIMS exposed 1,048 ghost officers while the Directorate of Criminal Investigations had 153 ghost officers.
Uhuru said Huduma Namba will help the government eliminate ghost workers from its payroll, President Uhuru Kenyatta has said.
He urged Kenyans to sign up for the Huduma Namba as it will get rid of red tape in service provision from government offices.
"You won't need to carry with you several cards in your pocket. No government official will ask you for a birth certificate when you go to apply for national ID card," Uhuru said.
He said the digital registration will now head to the Prisons department where more rot is likely to be unearthed.
"At last, we will go to civil servants. Everybody is going to counted, even teachers," he said.
Uhuru said the war on graft is going to be fought by whatever means, and the implementation of Huduma Namba is a good starting point.
Fighting corruption, he said, is not a choice but  a must and everyone should join hands in actualising it.
The Head of State called on leaders at all levels in society to rally Kenyans in registering for Huduma Namba.
The High Court on Monday gave the go-ahead for the registration of Kenyans under the system, but said no one should be compelled to do so in order to receive services or facilities from the government.
It also stayed the requirement for collection of DNA details from citizens.
Critics have called the registration an intolerable invasion of privacy with some church leaders saying it's what the Holy Book refers to in Revelation as 666.
Uhuru dismissed the claim.
"As a Christian, I wonder when I hear some pastors saying this is the devil's sign.  How is the devil and the identification of people connected," Uhuru paused.
"This is supposed to improve our ability to provide kenyans with the service that they truly deserve and desire."