Kenyans in the UK Plug into Mobility That Brings Smile
Kenyans in the UK Plug into Mobility That Brings Smile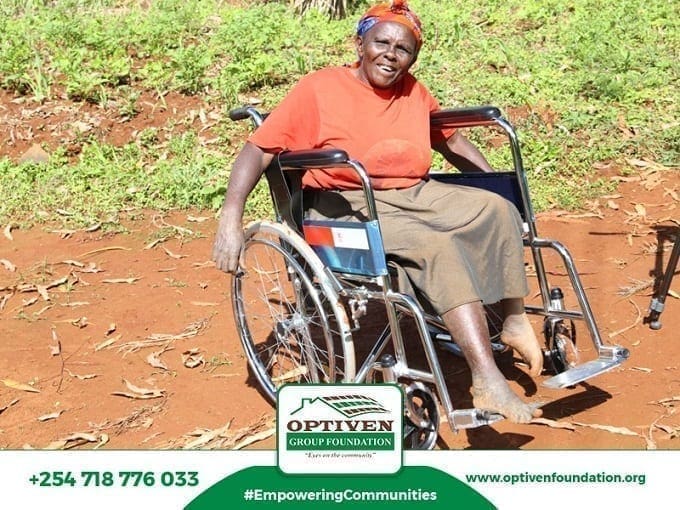 Mobility That Brings Smile is an initiative by Optiven Foundation to put a smile on less fortunate Kenyans living with disabilities across all the 47 Counties. Kenya currently has an estimated 1.16 million people who have mobility disability. This is according to statistics by Global Disability Rights Now, a United States based resource center.
A huge number of these Kenyans do not have financial capacity to own a wheelchair, which could go a long way towards making them more productive. Thanks to Optiven Foundation, a Kenyan based philanthropy outfit, hundreds of Kenyans have now been given free wheelchairs, courtesy of one of the Foundation's programme dubbed, 'Mobility that Brings Smiles'.
Kenyans in the UK recently pledged 50 new wheelchairs towards Mobility That Brings Smile Initiative. It all happened in recently when Optiven customers gathered in Central London to witness how Optiven Foundation is changing lives in Kenya. The dinner turned to be a great Philanthropy meeting with George Wachiuri, Trustee Optiven Foundation, taking time to narrate the dire need for wheelchairs in Kenya. https://youtu.be/TThBmY87UfI
These Kenyans in UK committed to support the initiative that has so far touched hundreds of people and with a target of reaching 1, 500 cases in 47 counties.
Optiven Foundation has so far made many physical challenged to smile across several counties:
1. Kajiado County, Loitoktok – https://youtu.be/sOu-nvExXiU ,
2. Nyeri County, Othaya – https://youtu.be/lUf-GoRwP6I
3. Kisii County, Nyamira – https://www.optivenfoundation.org/newsandblogs/113-optiven-foundation-gives-a-smile-in-nyamira
4. Kiambu County, Githunguri – https://youtu.be/hE9ct2LV
5. Nairobi County – https://youtu.be/TThBmY87UfI
6. Murang'a County, Gatanga – https://youtu.be/XHOgNrCXFkA
We are looking for more Kenyans individuals, Group, Chamas, Organizations (local or international) who can join this initiative of #TheMobilityThatBringsSmile
One wheel chair only costs 150 USD and Optiven Foundation matches one-for-one.
Join the transformation movement today by sending your desired support to change and uplift others to:
Foundation account no: 1290263495498
Pay bill: 898 630
Account Name: Mobility
Contacts
Call +718 776 033
Email: [email protected]
Website: www.optivenfoundation.org