Ruto's men worried by Raila's pact with Uhuru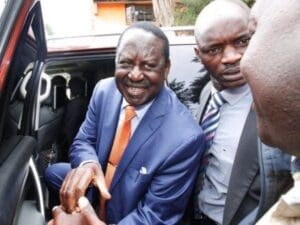 The Uhuru-Raila unity pact is causing jitters in DP William Ruto's camp amid fears that it could jeopardise his chances and scuttle Jubilee's 2022 succession plans.
The Star has established that most of Ruto's key allies are uncomfortable with the closing of ranks between NASA leader Raila Odinga and President Uhuru Kenyatta.
Despite public pronouncements of support, inside sources say Ruto's allies are wary of the radical pact's impact on the DP's political future and have adopted a wait-and-see stance.
This came as the ODM Parliamentary Group yesterday resolved to work with Jubilee after a meeting with Raila.
Sources add that Ruto's allies are quietly plotting to flatly reject any proposal to create more positions to accommodate Raila in government if that would dim Ruto's star.
Ruto, ranked as Raila's foremost political nemesis, was not involved in the negotiations that led to the pact.
A frontrunner to succeed President Uhuru in the Jubilee Party plan, Ruto was a member of the ODM Pentagon in 2007 before ditching him in the run-up to the 2013 election.
After a bitter fallout over unspecified grievances, he decamped to UDM and later URP, with which he formed the Jubilee Alliance with Uhuru's TNA.
Since then, Raila and Ruto have traded harsh words on the political campaign trail.
Now Ruto's lieutenants from the Rift Valley, Mt Kenya and Western regions believe the re-entry of Raila could jolt Jubilee's smooth power transition strategy as well as puncture the DP's 2022 presidential ambitions, if not checked.
Tharaka Nithi Senator Kithure Kindiki — a key ally of the DP — lifted the lid on the growing resentment among Ruto's political associates, saying the union could deal Jubilee the death knell.
Senate Deputy Speaker Kithure Kindiki on Sunday cautioned Jubilee to tread carefully with Raila, saying the engagement could spoil Jubilee's plans to have Ruto succeed Uhuru in 2022.
"Jubilee should be cautious so that Raila does not mess it up ahead of 2022," Kindiki said on Sunday during a service at the Word of Faith Church in Mukothima, Tharaka.
Kindiki, a second-term senator, has been angling to become Ruto's running mate in 2022. He warned that Raila could ruin Jubilee because of his history of breaking up parties whenever he joined coalitions.
"Raila is like the camel that told a house owner to allow it to shelter only its head from the rains only to ask for his hump to be allowed in too."
"After it was finally allowed, the entire camel came inside and the house crumbled. We do not want that to happen to Jubilee," Kindiki added.
Yesterday, Kieni MP Kanini Kega, another ally of the DP, said they would not accept any amendments to the Constitution aimed at creating more positions.
He said any amendments to the Constitution must be focused and done for posterity and not for a short-term political agenda.
"I know before 2022 we will be working on our Constitution. But that is not on the cards for now. Nobody should think that we are going to create positions for an individual," Kega told the Star.
He, however, said the union was good for Jubilee to strengthen itself ahead of the 2022 polls. "Let us not think that we can come together to create roadblocks for somebody," he said.
"Our thinking is that anybody who joins Jubilee is a plus. Jubilee has a plan to pass the baton to Ruto. That plan will not be altered midstream. Ruto will definitely take the baton from Uhuru as has been the plan," the MP reiterated.
Cherangany MP Joshua Kutuny warned Ruto against resting on his laurels, saying the DP has the difficult task of managing the consequences of Uhuru's embrace of Raila.
"It is now upon the DP to take the lead and embrace everybody in government and outside to ensure there is no possibility of potential parallel centres of power being created around Uhuru," said the vocal MP.
Kutuny said creation of two competing camps around the President might jeopardise the DP's 2022 presidential ambitions.
"It is true that the pact has consequences for 2022. Raila could take advantage of this as a politician to reinvent himself," he cautioned.
But National Assembly Majority Leader Aden Duale said Jubilee's succession plan was on course and strong like the River Nile.
He said the DP would be Jubilee's 2022 Presidential candidate.
"William Ruto is our 2022 utility player. We want to bring in more troops to insulate him from any political injury so that he can score both at home (Jubilee) and away (NASA)," said the vocal Garissa Township lawmaker.
Duale termed Raila's agreement to work with Uhuru "a big score for the DP." He insisted that the Opposition chief's pact was based on Jubilee's working terms and conditions.
"Raila's coming was on our own terms and he will not in any way complicate our 2022 succession politics. His coming is a small thing when it comes to our succession politics," said Duale.
He said the pact only involves their joint agenda of inclusivity, devolution, corruption, electoral reforms and security, and not the Jubilee succession.
Jubilee MPs from Western Kenya, a NASA stronghold, are said to be the most uncomfortable with the Uhuru-Raila deal.
They argue that their prominence in the region, hitherto controlled by the Opposition, could suffer and they will become irrelevant.
National Assembly Majority Whip Benjamin Washiali yesterday told the Star there is palpable apprehension with the Uhuru-Raila deal in light of the 2022 politics.
"There is more than meets the eye in the handshake. We read more into it. There are more unanswered questions," said the Mumias East MP, adding: "We are focused on the ball [2022]."
According to political analyst Martin Andati, Raila's entry will definitely complicate Ruto's 2022 game plan.
"If Raila will run as he has often indicated, then that would create tension and a complication for the DP because the two leaders are both strong-willed," he said.
Ruto has climbed down from his ferocious onslaught against Raila and played down jitters over the deal.
"The journey to unite Kenyans began in Nakuru with President Kenyatta and myself in 2013. What happened on Friday was a culmination of that effort of bringing Kenyans together," Ruto said in Njoro on Sunday.
"I want to ask those who are yet to join us to come so that we can take this country forward," Ruto said.
He has urged NASA co-principals Kalonzo Musyoka, Musalia Mudavadi and Moses Wetang'ula to join the reconciliation calls to unite the country.
During last year's two Presidential campaigns, Ruto was particularly opposed to the formation of a government of national unity or any deal with the Opposition.
But the new pact between Uhuru and Raila will see the two engage in joint programmes and rally their troops to push mutual interests, including through Parliament.
The pact has raised eyebrows among some Kenyans who argue that it is designed to serve the interests of the two leaders. Questions have been raised about the future role of the Opposition.