Death Announcement For Anne Phoebe Njeri Njongwa Of Blackhorse London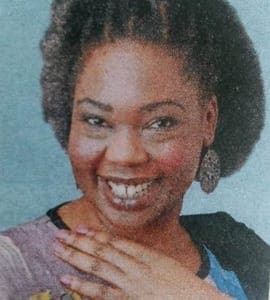 We regret to announce the death of our beloved Anne Phoebe Njeri Njongwa, which occurred in St Bartholomew's Hospital, London on Wednesday July 18, 2018 after a long, bravely fought battle with cancer.
Anne was living in Blackhorse, Wathamstow, London. Daughter of Rev and Mrs Othniel Gakahu Njongwa of Kitale; sister of Betty Muriuki, Dr Karen Nyangara, Florence Angima, Silas Njongwa, Irene Kabura and Titus Mwangi.
Sister-in-law of the late Kenneth Muriuki, Dr Charles Nyangara, Dr Sam Angima, Alice Njongwa and Christine Mwangi.
Family and friends are meeting at Kwa Njungwa, Maili Tatu, in Kitale daily from 4pm, and at the All Saints Cathedral in Nairobi daily from 3 pm.
Funeral arrangements will be announced later.
For more information contact 07949750539. Job 1: 21 The LORD gave, and the LORD hath taken away; blessed be the name of the Lord.
-Misterseed.com