Healing and Prophetic Crusade with Rev. Teresia Wairimu in Atlanta GA
Healing and Prophetic Crusade with Rev. Teresia Wairimu in Atlanta GA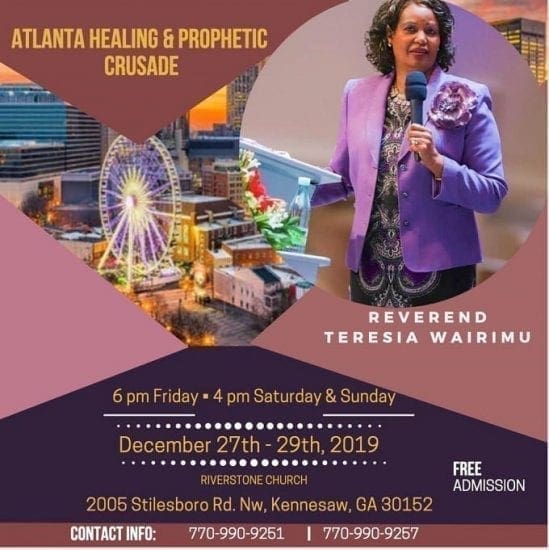 Kenyans in Atlanta blessed to Host Rev. Teresia Wairimu of Faith Evangelistic
Ministry (FEM) for End of the Year Healing and Prophetic Crusade.
Kenyan ministers, together with FEM partners and friends in Atlanta are pleased to host Rev.
Teresia Wairimu for End of Year Healing and Prophetic crusade. The meetings will take place
from Friday, December 27th to Sunday, December 29th and will be held at Riverstone Church in
Kennesaw, GA.
It is a great honor for the Kenyans in Atlanta to welcome such an anointed
servant of God to come and bring a prophetic word to the community and minister healing and
revival in the city.
The last time Rev. Teresia Wairimu was in Atlanta was 10 years ago and so
this is a very special treat for the Kenyan community in Atlanta. We are trusting God for a great
revival in our community as He uses His servant prophetically.