Kenyan Diaspora Students gather for College career workshop in Marietta GA
Kenyan Diaspora Students gather for College career workshop in Marietta GA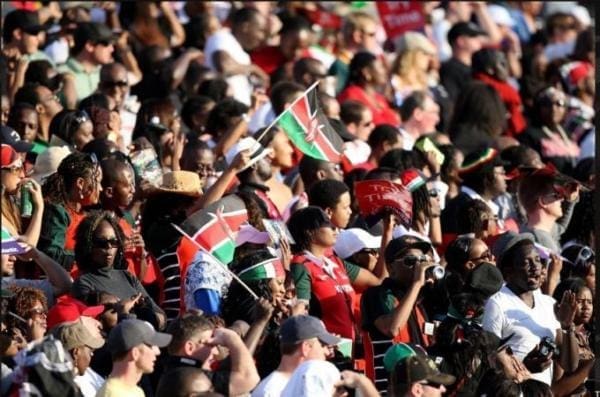 To Inform. Inspire. Educate. Empower. 2 Timothy 2:15 Study to show yourself approved unto God, a workman that needs not to be ashamed, rightly dividing the word of truth."
Almost all earlier schools in USA and in Kenya were started by missionaries or by Churches. In addition to learning about various topics, it was the intention of Families and Churches that as students are taught other topics, that they should be taught the word of God. Then depart the school hall ways to serve in the community of faith and at large. This is our foundation.
We aim to look at High School and College Education from a USA perspective. We give back to our Diaspora Community the best information to inspire, inform, educate and empower. We can only give what we have received in terms of the best higher education in USA
Take away points from presenters College & Career:
Listening to a Science Teacher bring us up to speed concerning what is happening in our GA Public School System. Ms. Kirima's power point presentation included GA Futures Platform, Dual enrollment which is open to all High School students. There is no residence or citizenship requirement to participate for students already in the system. Partner with you school for those who wish to home school their children/youth, taking the accuplacer. Ms. Krima's favorite is GA Career Academies. She had a lot to say about this. Don't forget Military careers for those 18-36 years old. She wishes to encourage adults who previously attended College/University and earned 60 Credit hours, but due to unavoidable circumstances were not able to graduate, there is good news.  Now one can apply to get an Associate Degree for those credits. Then in future when a person is ready, they can pursue a Bachelors degree.
All smiled in agreeing that the State of Georgia want to have a population that is learned with the majority of people having a degree.
2. Listening to Dr. Sikinyi an Agricultural Science teacher in Henry County.  She talked about obtaining scholarships PE$A and  the importance of Writing that winning essay, especially for the Colleges that ask for one. Besides it doesn't hurt a student to write as that in itself improves their writing skills. Dr. Sikinyi has raised 2 young adults and one is still in a University. Both received scholarships to the University of their choice. To access scholarships students need to have completed application by February 26. Apply early then it is easier to select the University that offers you the most money for your study.
3. Listening to Mr. Eddie of lst Choice Tutors talk about how he became a business owner and now offers tutoring services for ACT and SAT. Let your High School Students start taking the tests as early as 9th grade. There is no penalty for repeating the standardized tests. Colleges and Universities take the highest scores. Do you know the best Test for your HS student to take? Is it ACT or SAT? Reach Mr. Eddie who came prepared with a fantastic Power Point Presentation. Although the workshop was free admission, there is a fee for tutoring students for specific tests.
4. Rev Wambui talked with excitement about Adults Continuing education. Get old doing what you love to do for job improvement or self improvement. Whether you pursue your goals or not you will definitely continue to progress through the aging process. Adults who continue learning seem to enjoy life, and live longer. The slogan "The mind is a terrible thing to waste" applies to adults too. It is a wonderful feeling to mature and at the same time have relevant information to benefit the community. "In Kenya, I learned how to write my name on the dirt. I didn't have a note book, or a chalk board. Yet today I teach academic skills using modern technology in an internet ready classroom. Awesome."  Older adults are sometimes overwhelmed by online surfing, Google this and that. The personal touch and active interaction one receives in a workshop cannot be obtained Online. Consider that the majority of adults in Diaspora are digital immigrants.
Diaspora Wellness Session was moderated by Ms. Connie, a graduate in Law and an MBA. This was a highly interactive session with unedited questions and answers.
The room become silent or one heard oh my, as a teenager expressed the undue pressure placed on an individual whose parents want the Teenager to pursue a career that they are not interested in nor prepared for. The students in Diaspora do understand that parents want to have "bragging rights" to be able to say that my daughter or son is a doctor or that…don't misunderstand the students. Appreciate that the student is the one who will do the work. They also want to do well. Allow your son or daughter to choose a career of their choice.


Another take away from Beatrice was on American vs. Kenyan culture.  Kenyan parents want to raise their American Born Children or those who have immigrated here the same way they were raised in Kenya. But this is not Kenya. The attitude that children are to be seen and not heard will not work with American youth or Kenyan American. Young people want to be heard. If you push them down, who is going to carry the mantle? Tell them, "You are important, you are included." Listen to what young people have to say. There was an overall agreement that youth in turn do need to RESPECT parents.

We listened to a Parent, Mrs. Stella narrate why she decided to home school her daughter, making her a priority in her family life.  She adjusted her work schedule in order to be present and available. She talked about issues of bullying at school and how they can negatively impact the life of a student, especially in our huge county schools. Imagine a student being in one grade, say 8th grade that has a total of 500 students. That alone can be overwhelming. The conversation will continue on how parents can navigate GA School system successfully. May be Mrs. Muturi can share more with parents who wish to home school their children.


Mr. Kevin is a Registered Nurse. He asked, "Who is identifying your children? They have face time with others…how about you? Be present in your Children/Teenager's life. Remember to compliment them or others will..kama musemo asiyefunzwa na mama yake atafunzwa na dunia. He shared available resources in greater Atlanta Area for individuals who are wrestling with mental health issues and the referral process. Hospitals offer free assessment and counseling for any person who is going through a crisis or for an alcoholic. It is also easier to get a referral for rehab through the hospital.
Listening to Evang. Daniela, LPC. Say that anyone who threatens, by saying they wish to commit suicide should be taken seriously. It is a CRY that says "HELP ME." She highlighted issues that might lead a person from feeling hopeless and isolated, being abandoned or even a broken relationship. On the isolation part, she said that America is a Mobile culture, which is less relational and people can feel and physically live more isolated. She illustrated this by how in Germany her family of origin as a succeeding generation have lived in the same house or area where their ancestors grew up for 350 years.This type of closeness is not available in the USA.
Concluding Remarks and Prayers:
Dr. Joe offered concluding remarks to the effect that you treat students well because you don't know what will happen in the future. He reminded the audience that by the time students get to College there are no parents or teachers to remind them of what is important. Parents who stay involved in their children's lives during the earlier years will not have to worry that much when they are in College.  He led in praying for parents, students and workshop presenters who had shared their very best.
Looking Back to/ Previous Workshops/Highlights:
Take GED: Adults wishing to continue with education in USA. May be your High School in Kenya is taking ages to send your Transcript. If you brought your High School Leaving Certificate, this is Good. Consider taking GED and let your terminal diploma show that you have finished High School in USA. There is more than one way that leads to a successful end.
Online Practice Tests: A person can find practically all practice tests for various standardized tests online. Some might be free, and others might charge a small fee. Not so sure about engineering…
Get Involved:  Parents are the biggest advocates for their children and teenagers in the school system. At the end of the day, although teachers are significant in the lives of students, they have mandated targets and a job to keep. Invest in the children/youth.
Parenting: The School system provides adult supervision for students. When they get home, who is there to provide active communication and interaction? Is there an adult or is it the TV, The Computer and the Mobile Telephone? A parent is the most significant adult in a child's life. Stay involved in their School experience. The school system cannot parent Diaspora children. Parents owe it to their children to help them navigate the system.
Above and amongst many more reasons. This is a valuable workshop where you interact with qualified professionals who have won awards in their fields. All This for FREE ADMISSION! But it will not always be free. Take advantage of the resources available in your community.
Appreciation: We appreciate Pastor Joshua & Mrs. Agnetta for allowing us to use the Church. Refreshments were provided by presenters and sisters Ruth, Nancy & Keziah. This is how we are able to offer the workshop for Free Admission.
Photos by Anne Njoroge, One Degree Productions.
Personalities: Mr. Willie Kibiro is interested in the Cultural Perspective, American Vs. Kenya and how families especially children are being impacted. He has attended every one of the previous workshops and was instrumental in starting the first College & Career PE$A Workshop. We appreciate all the others who joined us and look forward to serving this community in a great way. Sister Ruth Baker who represented all seniors in Marietta…
Sponsorship/TCMI: Family Enrichment Education Forums, USA-Dr Joe & Rev Wambui Njoroge, & lst Choice Tutors, LLc. with Mr. Eddie Kihara
Snacks Provided by Presenters, and by Sisters-Ruth, Nancy & Keziah.
What Next?  Those who remained till the end completed evaluations. They have recommended topics and the most likely when we hope to hold the next workshop.
Kenyan Diaspora Students gather for College career workshop in Marietta GA