kenya Airways Most Diligent Captain Ndichu Kinuthia Retires

I am delighted to write the story of a man that I have known from way back in the 70's as a young student at Chania High School and even later through reading inspiration stories that talked about his illustrious career. He was my senior but that fact did not hinder anything for we got along well, unlike other boys who were ahead of me.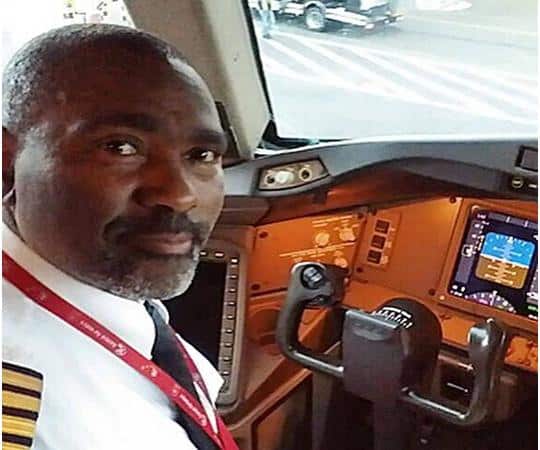 Ndichu Kinuthia as many would call him was articulate in everything he did and he in a way in those years, greatly inspired many especially the way he kept himself. He would all the time make sure that his white skimbo shirts (that were the school uniform) were well ironed and neatly kept.
It was as if he knew that he would in future be wearing similar neat uniforms but this time not as a student, but as an important and highly trained pilot.
Here is a story of a man who exactly knew what he would like to be when he grew up, and whoever said that a diligent worker is like an investment, he or she had Ndichu in mind for what he put so earnestly with time at KQ, is what he got out of it and the way he did it, is a true reflection of himself for that is exactly who he is.
With that introduction you may think that am narrating a story of one among the Knight Royal family, but it's to the contrary for Ndichu hailed from a relatively humble family in Gatanga, central Kenya.
Gatanga as many may think is not a sleepy village after all for it has history in itself being the hub of Kikuyu music from as early as 60's when the famous D.K. Kamau hit the music industry by storm.
It is not known for music only as it is also home for famous men like David Murathe, Humprey Njuguna the M.P., SK Macharia of Citizen TV, Peter Kenneth and now to add on the big list, Joseph Ndichu Kinuthia, the first Kenyan to make the historical landing with the dreamliner direct flight from Nairobi to New York.
Where did J.D. as he is known by his workmate at KQ get his motivation to decide to become a pilot?
I may not know his earlier days behaviors and even his ambitions, but as a young man while studying at Chania High School, apart from concentrating on his studies, he was a great fan of reading such novels by James Hadley Chase and Harold Robins.
During the four years at the school associated with a famous Goan man nicknamed "Kirothi" (R.I.P.), he must have read quite a number of them to finally earn himself a nickname only know to those close to him and those he inspired… "007 James Bond"
He may also have been inspired by James Bond creator Ian Fleming, and it was no surprise to many, when after completing his A-levels at Muhoho High school, that he immediately joined the famous flying school in Soroti Uganda, to train as a pilot.
The ever smiling tidy and smartly dressed polite boy was always jovial and would get along with everybody including the so called "monos", for he would at time even fight with the form two's to stop them from bullying the form one students.
It is therefore no wonder that Mr. Ndichu later joined a field that adheres to precise care, responsibility, articulacy, ..strict disciplines and this is a case of a man who as earlier said fulfilled his ambition in life for he would always narrate stories of James bond incredible daring rescue missions.
But unlike James bond fiction life, Ndichu never ended up doing imaginary rescue missions or acting but rather, real life missions to ensure that passengers got to their destination safely and without any fear of a rough landing or take off.
He mastered his career with time to become one of the most experienced captain that would without hesitation or doubts, be trusted to handle the first Dreamliner that made the historic maiden inaugural direct flight from Nairobi to New York.
However it takes alot of determination to complete such a feat and the journey of Captain Ndichu is not that short for it began in Soroti Uganda, in early years where he was sponsored by United Nations.  After completing the course, he never stopped there but, proceeded to Scotland to gain even more experience while still sponsored by the same organization.
Captain Kinuthia's story is that of great courage, commitment, hard work, sacrifice and alot of determination that finally made him with time, to emerge as one of the best pilots not only in Kenya but in the entire world.
He was so special and trusted that he was one time accorded the honor to handle a flight with the Pope on board and many other important personalities, who can make his story to be narrated elsewhere in form a documentary movie.
The fact that he was chosen to be in control of the first inaugural direct flight from Nairobi to New York, speak volumes in itself for he surely attained a historical achievement. Yes…Captain J.D. has comfortably reserved himself a place in the annals of history for men and women whose names will be permanently engraved in the corridors of time.
42 years of unwavering service attaining 23,600 flight hours, deserves congratulation and much honour for a job well done and to spice it even further, by a diligent worker.
Ndichu has also inspired many people and during his long illustrious career, he has trained over 400 Kenya airways staff on airplanes and simulators. If his students can emulate him, then Kenya Airways can be lest assured to continue shinning in an area where virtue is always the key.
We can only wish Captain JD an enjoyable fulfilling retirement and hope that it is not the last time to see him in that field, for he is still a young man who can as well use his great wealth of experience to continue training other young Kenyans.
Final words of advice are taken from a quote that goes to the effect that: "When people retire, they take home part of their earlier income but get whole time with the family".
ENJOY YOUR RETIREMENT TO THE FULLEST.
______________________________________________________________________________
CAPTAIN JOSEPH D. KINUTHIA ILLUSTRIOUS JOURNEY
To impart knowledge and skills to the next generation and promote safety in air travel with my many years of flying and training experience.
TOTAL ACCUMULATED FLYING HOURS-23,600.
EDUCATION: A-LEVELS- MUHOHO HIGH SCHOOL-1973-1974
O-LEVELS-CHANIA HIGH SCHOOL THIKA-1969-1972
Great experience gained as a pilot trainer and examiner on line and on the simulator conducting training and flight checks for Kenya Airways and KCAA.
REFERENCES: Chief Pilot at Kenya Airways Licensing Office KCAA
Story by: D.K. GITAU Per surprise tel interview dated 2/24/2019
D.K. GITAU
PRESIDENT
KENYA PARENTS IN USA